DR ELISE STEPHENSON
award-winning Australian researcher and strategist
Communities need leaders as diverse as they are
Elise is a creator, characterised by her love of hands-on projects and atypical projects. She has travelled by road over 75,000kms over the past four years chasing her passion for empowering women and driving social change, resulting in her being at the forefront of many 'first of their kind' initiatives across Australia and the Asia Pacific.
Working from the heart of the Western Desert in the Northern Territory, to the Sydney foreshore and all across the region, she continues to bring her strength in communication, leadership, practical foresight, and the ability to be empathetic and connect with others to help wildly varying projects that are making the most social impact and leverage across Australia and Asia.
PhD (gender, international affairs, diplomacy & national security)
BAsIntSt (Asian Studies), BComn (Intercultural Communication), BGovIntRelHons(I)
3x medalist: Chancellor's Medal, University Medal, & Politics, Asian Studies and International Relations Medal
Research Fellow
Australian National University
Research for the Global Institute for Women's Leadership (GIWL), focused on inclusive leadership (gender and sexuality), foreign policy, diplomacy, soft power, national security, entrepreneurship, intergenerational justice, climate justice and gender.
More on this research and research profile can be found here.
Recent Publications include:
New Dimensions of Gender and Political Leadership During Covid-19, SAIS International review, 2021
Invisible While Visible: An Australian Perspective on Queer Women Leaders in International Affairs, European Journal of Politics and Gender, 2020
Domestic Challenges and International Leadership: A Case Study of Women Leaders in Australian International Affairs, Australian Journal of International Affairs, 2019
Founder & Board Director
Focusing on public diplomacy, research, strategy and social impact across Australia and Asia Pacific.
The Social Good Outpost (SGO) is a national strategic design, communications and strategy studio. Social Good Outpost works with government, startups, non-profits, social enterprises and change-makers across Australia and the Asia Pacific. SGO's public diplomacy and events branch, Curates, leads some of Australia's leading people-to-people engagement, events, incubators and creative projects.
More on this work and design profile can be found here.
Consultant and speaker
Capturing her research and practical experience across government and entrepreneurship in Australia and the Asia Pacific.
Elise is a multi-award winning strategist, researcher and entrepreneur, and is a sought-after consultant on women's leadership, gender equality, next generation leadership, social change and social marketing.
Elise currently sits on the following boards and committees:
Australian Feminist Foreign Policy Steering Committee
Brisbane City Council – Inclusive Brisbane Board
Queensland State Government LGBTI+ Roundtable
Social Enterprise World Forum Diversity and Inclusion Steering Committee
International Studies Association LGBTIQ+ Caucus
And formerly:
LGBTI Human Rights in Asia and the Pacific – Roundtable
Griffith Pride Committee

Griffith Equity Committee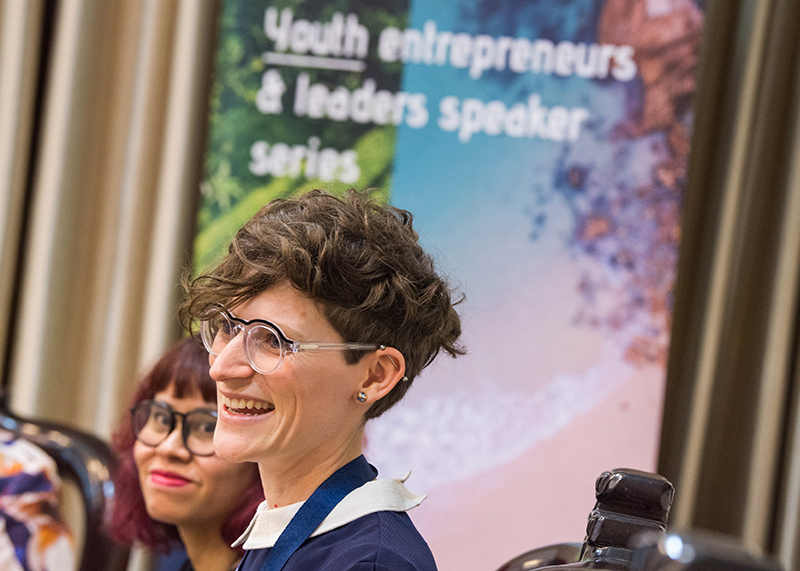 Curator
Curating programs for Australia's largest a public diplomacy program, Australia now, and the Australia-ASEAN Council's flagship youth leadership program throughout Southeast Asia.
Working with the Australian Government Department of Foreign Affairs and Trade Elise conducts research and runs public diplomacy events, panels, workshops, festivals and partnerships across Southeast Asia, including Vietnam, Laos, Cambodia, Brunei and Malaysia, and more.
Elise also leads strategy on next generation leadership in international affairs.
For more information on her programs, or to get involved, visit the Australia-ASEAN Emerging Leaders Program (A2ELP) or the Young Entrepreneurs & Leaders Speaker Series website.
Elevate+ Social Entrepreneur 2018
New Colombo Plan Scholar 2014
Overall Outstanding Young Alumni 2020
30 Under 30 LGBTI+ Role Model Awardee 2019
Young Achiever of the Year Finalist 2015
Australian Representative 2018/2019
Top 50 Outstanding LGBTI+ Leaders
Outstanding Young Alumni for Griffith Business School 2020
Politics, Asian Studies & International Relations Medal 2014
Role Model of the Year Finalist 2015
Chancellor's Medal for Excellence in a Research Thesis 2020
Award for Excellence in a Research Thesis 2020
Impact25 Awards nominee 2019
'Young Woman to Watch' in International Affairs 2019
Shanghai Regional Finalist 2015
Publications & Appearances
Gender Politics: Am I Ambassadorial Enough? in Z Ghazarian & K Lee-Koo, NewSouth Publishing, 2021.
European Journal of Politics & Gender: Invisible While Visible: An Australian Perspective on Queer Women Leaders in International Affairs, 2020
Lowy Interpreter: Youth-led Diplomacy: Big Opportunity for Big Impact, 2020
Australian Journal of International Affairs: Domestic Challenges and International Leadership: A Case Study of Women in Australian International Affairs, 2019
Australian Strategic Policy Institute: Women in Security and Defence Network Profile of Elise Stephenson, 2019
Lowy Interpreter: As Julie Bishop Exits, How Far Have Women Come in World Affairs? 2019
Lowy Interpreter: A Slap in the Face for Diverse Diplomacy, 2018
BroadAgenda: Breaking the Barriers: Women in Diplomatic Leadership, 2018
BroadAgenda: Women of the World: The Power of Stories, 2018
Machinery of Government Blog: Foreign Policy in an Uncertain World, 2018
Machinery of Government Blog: What's Missing From Australia's Foreign Policy? 2018
Griffith Journal of Law and Human Dignity: Climbing the 'Staircase': Do EEO Policies Contribute to Women Achieving Senior Leadership Positions in Universities in Australia and Hong Kong? Elise Stephenson, Kaye Broadbent, Glenda Strachan, 2017
National Council of Women of QLD: Young Women's Thoughts on Gender Equality and Increasing Participation Rates, 2015
Griffith News: Women's Leadership in Universities in the Australia and Hong Kong, SAR, 2015